Split System Air Conditioning
Daikin Split System air conditioning will heat or cool one room or an area of your home to the exact temperature that you desire. Discreet wall-mounted models, compact floor consoles and versatile floor and ceiling units are all part of the Daikin range. Split systems are available in Cooling only or heating and cooling, plus you can choose from inverter and hybrid split system models. 
Daikin also has a multi head split system range, this technology ensure that our team at Bill Kershaw Air Conditioning can offer air conditioning solutions to every house no matter the shape or size, to a maximum of nine indoor units connected to the one outdoor unit.
Designed with energy efficiency in mind, aesthetic appeal and compact form factor, as well as some models have built-in WiFi connectivity, so you can control your temperature from a smartphone no matter where you are.
Is it time to replace your Air Conditioner?
There's no denying that having an air conditioner makes life so much more comfortable when you're battling the harsh Australian climate. Even in the hottest days of summer and the coldest days of winter, having a reliable unit can ensure
that you're comfortable all year round.
However, there comes a time when your old trusty air conditioner just doesn't perform as well as it once did.
Excessive noise, costly repairs, unusually high energy costs and uneven cooling/heating are some signs that your air conditioning unit might be on the way out.
When heating and cooling your home can amount up to
40% OF YOUR ANNUAL ENERGY BILL
You may want to consider replacing your old air conditioner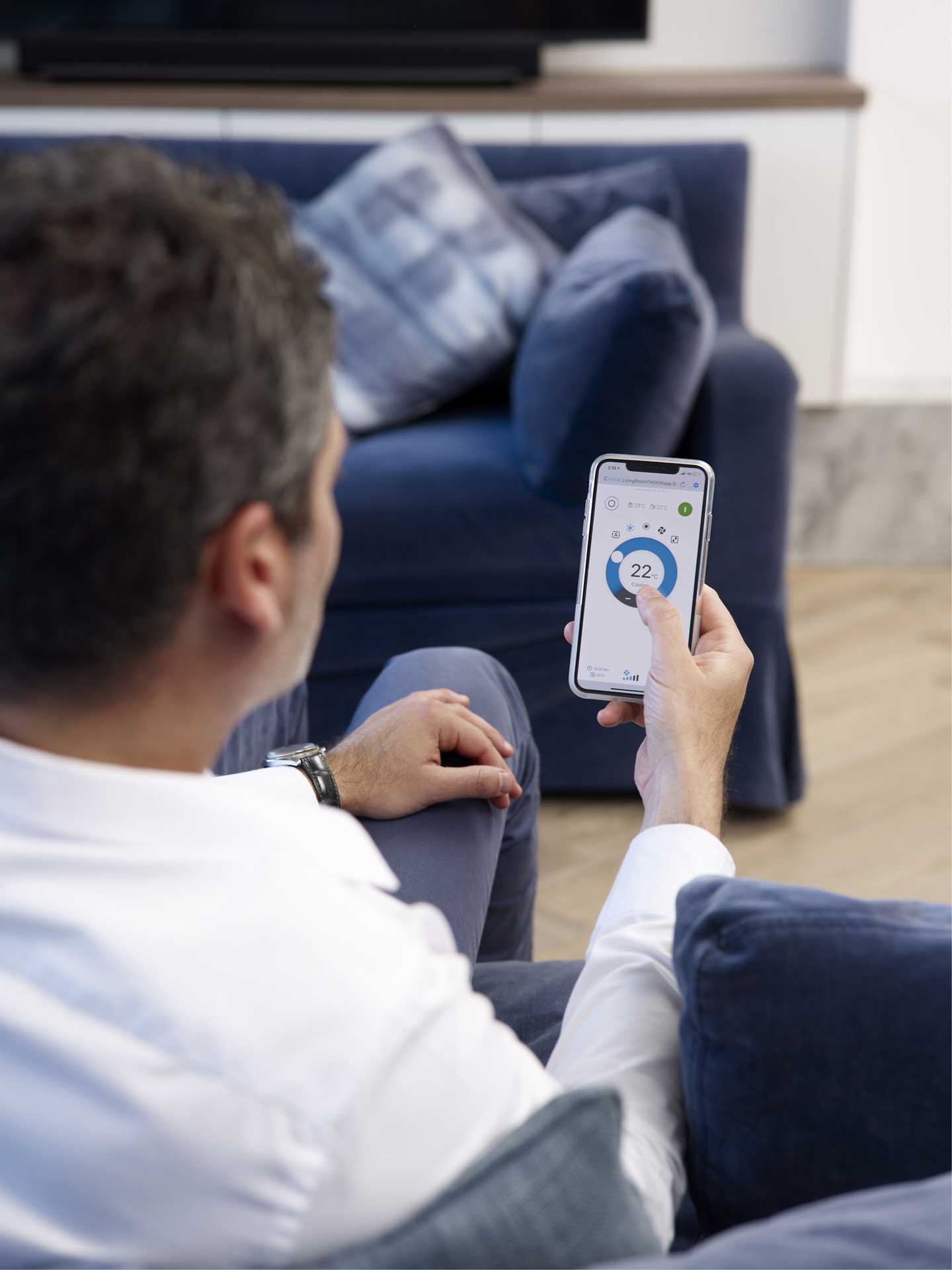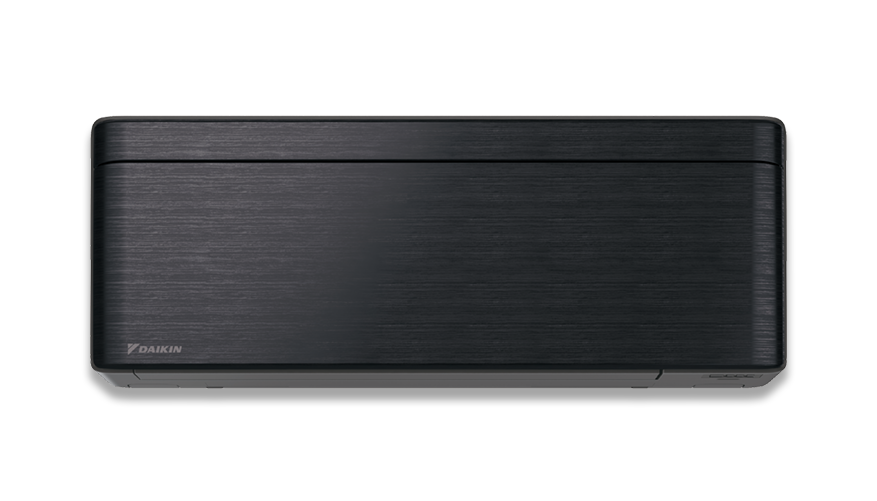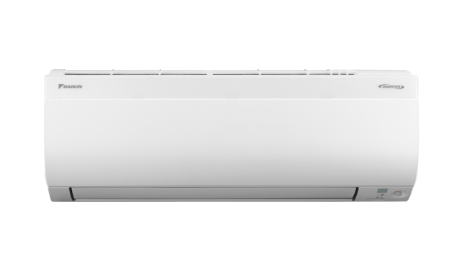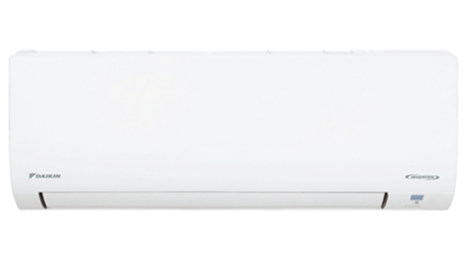 INVERTER TECHNOLOGY
An advanced fan motor technology which allows the unit to operate more efficiently than other models. This technology enables the desired temperature to be reached faster, and steadily maintains the temperature without fluctuations.
RELUCTANCE DC MOTOR
The motor utilises powerful neodymium magnets that are 10 times stronger than conventional ferrite magnets. By maximising torque, Daikin's reluctance DC motor can boost efficiency by 40% higher than conventional motors.
ECONO MODE
Helps reduce power consumption and decreases the load on the electrical circuit when multiple electrical devices are used simultaneously.
STANDBY POWER FUNCTION
When the air conditioner is not in use, the standby power function turns off power supply to the outdoor unit and sets the indoor unit into standby mode, reducing energy consumption.
INTELLIGENT EYE
(available on some models)
An infrared sensor that detects human movement. If the room is unoccupied for more than 20 minutes, the system automatically changes to energy saving operation.
Ready to Enjoy all the Benefits of a Daikin?
BETTER AIR QUALITY
The only air conditioning brand to be recognised by the National Asthma Australia's Sensitive Choice Program.
COMFORT MODE
Guarantees draft-free operation by positioning the louvre downwards to drive cool air to the bottom of the room.
SMART PHONE CONTROL
(Optional)
Allows you to monitor and control your system from virtually anywhere.
24 HOUR ON/OFF TIMER
The timer can be preset to start and stop at any time within a 24-hour period.
POWERFUL MODE
If you need to heat the room quickly, powerful mode maximises power for 20 minutes, before automatically returning the unit to the original setting.
"
Hello Bill and Vanessa,
Just want to note my appreciation to James, Josh & Aiden for their efforts. 
They were very professional, methodical and diligent, in every aspect of the installation. 
All were very polite, amiable and respectful.
I would gladly recommend your company without hesitation."
- Stan & Therese Saliba
"Hi Venessa and Bill,
 Thanks for your help and such a quick response in getting the air conditioning fixed at my house.
 James was really helpful and very pleasant to deal with throughout the repair work."
- Andrew Deroussent
"Hi Vanessa, 
Thank you for a great job in installing the new aircon system. We hope this one will last 20 years like the old one. 
Thanks for great service. Josh and team very professional"
- A & K Preema
"Dear Bill
How happy are we?
We are absolutely delighted with the efficiency, professionalism and courtesy that your team installed our ducted air conditioning system today at Blackheath. Josh, Aidan and James were superb!
Suddenly in one day, we have a very cosy home less than a week after moving in.
We will be the first to recommend your impeccable service to all.
Thank you Bill and your team!"
- Brigitte Banziger
"It has been a pleasure having you and your staff fix somebody else's mistake. Your staff were courteous and so pleasant to deal with. You have rejuvenated my faith in good old fashioned customer service! You will be on the top of my list for air conditioning company recommendations. 
Thanks again."
- Allison Cooke
"Hi Bill,
The boys were great: Cheerful, polite, co-operative, on time & hard-working.  Couldn't ask for more.
Thank you. "
- Victoria Dunne
"Hi Venessa and Bill
Hang onto those workers you have, they were a pleasure to have here working in our home, the whole day went smoothly.
Thanks "
- Fran
"Josh and the team are a credit to your business - they worked well together and everything was done smoothly and without fuss and they were polite and helpful when asked a question. Given the temperature reached 40C the day of installation, they showed remarkable fortitude.
Many thanks. "
- Teresa Snowden
" Hello Bill,
Please pass on a big thank you to your team of installers for the great job they did in installing our air conditioning this week.
They were efficient, clean and tidy and polite, Couldn't ask for better. "
- Stafford Lowe
"Dear Bill
Thank you for the installation today, your team Josh Aiden and James are very efficient."
- Warwick and Ros Giles
" Good morning Bill,
Just a note to thank you for ensuring that our new air conditioner was installed yesterday. I realise the pressure on you at this time of year and am most appreciative of your efforts. Your installers were both courteous and professional and are an asset to your company. Many thanks and best wishes for Christmas."
- Marilyn
" Hi Bill, just want to thank you and your great team for our recent split system install. The job went well, your team are very professional and did a great job. Thank you! "
- Julie Middlemiss
" Thank you, the boys did a great job. "
- Julie Stewart
"Your techs were polite clean and courteous, thank you very much for a great service "
- Kelly
" Hello Bill
Just a quick note to say thank you for the installation of our replacement air conditioning unit yesterday. Great job and also a big thank you to the installation team. Reckon they've done a few of these... "
- David
"Hi Bill and Vanessa,
Thanks for the install yesterday - very happy the product and the teamwork!"
- Iain Smale
" The guys did an amazing job today. So professional and incredibly helpful. The new unit looks great.
Thanks very much. "
- Stuart
" We commend your staff, Josh, James & Aden - excellent representatives for your company, together with efficient and prompt installation of the new unit.
Suffice to say you are very fortunate that we have returned your "boys" – we would be more than happy to keep them……😀. A pleasure to have them here.
We will see if we need another unit, after we try out the new one.
Every thanks and good wish,  "
- NEVILLE & SUSAN GILMARTIN
" I can't emphasise enough how happy we've been with the service we've received from Bill, as well as Josh & the rest of your installation team. They were unfailingly polite, respectful and professional and we wouldn't hesitate to recommend your services. "
- Tracey
" Please thank Bill for providing an excellent service & for doing a great job – he & his team are to be congratulated. "
- Jim
"I would like to confirm my comments on your staff who installed the aircon. They were very professional, polite and cheerful whilst installing the unit They cleaned up everything on leaving. They are a  great asset and should be treasured/looked after. "
- Piers Mortimer
"I wish to compliment the two young men who attended our home this afternoon to service our air conditioning systems. They in fact  typify the others from your company in that they are friendly and respectful men who willingly, patiently and gently explain whatever we need to know. It is so reassuring for us in our 70's to feel so comfortable and reassured when they're here. 
I will certainly pass on my experience to anyone needing professional work done."
- Tony Strahan
"Josh and the boys did a brilliant job today. They were professional, tidy, clean and efficient. They are a credit to your business.
Thanks so much"
- Ross & Mary Cutts
Office Hours: Monday to Friday - 9am to 5pm
Factory Address: Unit 6, 29 Attunga Road, Blaxland NSW 2774.